This post may contain affiliate links. As an Amazon Associate I earn from qualifying purchases.
After 2 years of traveling full-time, we have more travel under our belts than most. And during that time we've come up with a few things that make travel easier and more convenient for us. Below are links to products that we use and recommend.
Jen:
The primary bag that we both use is the eBags Mother Lode TLS Mini 21″ Wheeled Duffel. Despite it's small, carry-on size you can pack more in it that you would think. It is very well constructed, comes with a lifetime warranty, and best of all if stays upright all by itself when you are in one of those endless security lines in the airport. It also comes in several colors so if you do check it you can easily spot yours among the sea of black bags coming down the belt at baggage claim.
One of my new favorite travel accessories is a little handy gadget called the Demi Hugger. This slick device attaches my bulky backpack to the top of my suitcase securely so it no longer falls off when I'm getting on and off subways, running through the airport to catch a flight or traversing up and down sidewalk curbs. Before using the Demi Hugger my packpack has fallen off during very inconvenient times more often than I'd like to admit. Sean was a little doubtful about whether the hugger, which is like a neoprene band with a sturdy velcro close, would work. After I started using it he has admitted to being quite jealous he didn't snag one for himself.
I was not a packing cube fan until recently. I am now a complete convert. I love using these packing cubes for long term travel because I can find everything in my bag, quickly and easily. Previously I was rooting around looking for things in crinkly plastic compression bags. Now I can just organize my things and then toss the cubes into drawers or closet shelves and see whatever I need through the mesh top. I particularly love the Zero Grid Packing Cubes because they are very well made and can store more things because of the sturdy construction. They even come with a waterproof bag to store muddy shoes or laundry – brilliant!
Since we first started traveling I knew I wanted to find a good travel umbrella. One that was small enough to throw in a day back, but built well enough so that it didn't invert in strong wind, was so small it hardly kept me dry or so poorly made it feel apart after just a few uses. I think all of us have owned that umbrella – probably several times over. The Zero Grid Travel Umbrella has been my lifesaver over and over again. And this umbrella comes with another handy device – a built in flashlight. The light actually pivots so you can point it exactly where you need it. A nice way to light the way on a rainy day, or when hiking in a light mist before the sun rises. If only I had one when I hiked the Inca Trail to Machu Picchu. It would have been perfect!
I purchased a Lenovo IdeaPad Yoga purchased before starting our full-time travel adventure. I've been a Lenovo computer fan for several years, but have to admit that I was concerned about the small size of this 11.6 inch version.
I have been pleasantly surprised. It is very light weight, fits easily on the tray table on airplanes and on small tables in restaurants where I like to work. The keyboard is easy to use and I love that it easily converts to a tablet and does not need a "kickstand" for the screen. That way I can move the screen to any position for optimal viewing in different lighting. Highly Recommended!
I debated about whether to use my Yoga as a reader in order to save precious real estate in my luggage. I opted to bring along a reader as well and I'm glad that I did. I use the Barnes & Noble Simple Touch eReader. No need for frills and I love the long battery life, plus the convenience of not carrying multiple paperback books.
In addition to checking out our blog posts under "Destinations" for travel guides, I recommend the Rick Steves Series for travel in Europe. I especially love the Italy books. The guides have great recommendations for off the beaten track restaurants, hotels and sights. He even has a number of free downloadable MP3 guided tours to many destinations throughout Italy, available through iTunes. We felt we were getting a personalized guided tour and it made our trip all the better.
Next is probably one of the most important pieces of equipment that I carry – my camera. Having a camera that is packed full of features and will allow me to develop new skills while still taking great photos using auto settings is so important for a budding photographer. After lots of research I chose the Sony DSLR mirrorless camera. It takes fantastic photos even in low light without the bulk. If you've never tried a mirrorless camera I invite you to give one a try. In my opinion, it's all the camera I'll probably ever need.
For more years than I care to think about, I've been a Microsoft guy, and I've had numerous Windows laptops…in fact, my last non-Windows machine was a Mac Plus purchased in 1989. So, why, two months before our departure, did I decide to make the jump (back to?) to Apple, and buy a MacBook Air 13.3.
One reason: battery life. The MacBook Air boasts an eleven hour battery life, far better than the latest Windows 8 laptops (even with the power-saving Intel Haswell chips). It's taken some getting used to — using Open Office instead of MS Office (I know, not necessary, but I decided to go all in), finding new apps for all the little stuff I'd taken for granted over the years from Microsoft machines. My assessment? I love the MacBook, even without the cool touchscreen like Jen's Yoga.
Although I have always been a fan of having a basic reader, like the Kindle which I used for several years, I have recently upgraded to an iPad Mini. It's really nice to have a reader with good lighting. And of course now I have a minicomputer to carry to the coffee shop as well as way to play video games on long flights.
As a final and complete convert to all things Apple, the phone that we now use is, you guessed, the iPhone 6.
We've recently switched to T-mobile, which allows us to have coverage in 70 countries WITHOUT roaming charges. So convenient and affordable.
One of my jobs on travel days is to be the gadget guy, making sure we have everything packed and that we're not leaving cords and miscellaneous plugs behind. The Skooba R750-300 Cable Stable is a great gadget organizer which keeps everything in one place — it lives in one of our carry on backpacks, and it makes it easy to find everything even from a cramped airplane seat.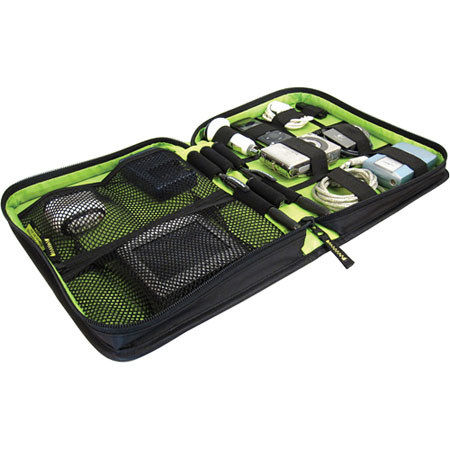 I've also heard a lot of good things about the Grid-It Organizer, as well, but I like the multiple zippered pockets of the Skooba.
We will be periodically updating our list. Feel free to ask questions about the things that we recommend or to send us your own suggestions.
Here are some suggestions from fellow full-time travelers for the best travel gifts, perfect shoes to get your adventure started.
Note: Some of the links above are affiliate links. If you do decide to make a purchase – thanks so much! We appreciate your support and you can trust that we only recommend products that we have tested and stand behind 100%.