(Last Updated On: June 7, 2019)
Making stuffed eggs (or deviled eggs) are an American Classic. Making them always reminds me of summer. We always had them with picnics or especially on the 4th of July. Stuffed eggs typically weren't an everyday dish – when Mom started making the eggs it meant we were getting ready for a party. Summer wouldn't be the same without them. This version was my family's favorite. A savory stuffed egg loaded with lots of bacon.
Stuffed Eggs with Bacon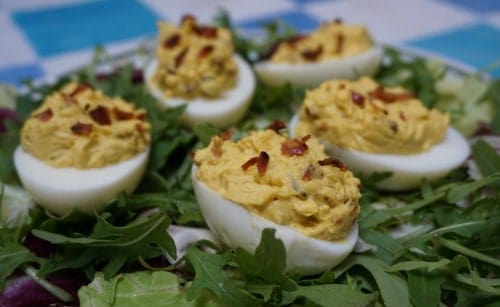 Classic Deviled Eggs with Bacon
Ingredients
6 Hard Boiled Eggs
5 Pieces Bacon - cooked extra crispy and crumbled
1 1/2 Teaspoons Dijon Mustard
1 Teaspoon Worcestershire Sauce
6 Tablespoons Mayonnaise, make sure sugar is not the first ingredient
Salt and Pepper to taste
Instructions
For 12 stuffed eggs
Make sure all of the ingredients are cool to room temperature before assembling the eggs
Shell and cut each egg in half
Scoop out the yolks into a small bowl and the mustard, worcestershire sauce and mayonnaise. Blend until creamy.
Add the crumbled bacon, reserving some to sprinkle on top.
Add salt and pepper to taste and mix thoroughly.
Add enough stuffing to fill the egg and mound slightly.
Place them on a flat plate and allow to chill in the refrigerator for at least 2 hours before serving.
You can visit our food finds/recipe section to view our collection of recipes inspired from our travels around the world.
Pin it for later
Here are some additional appetizer recipes you might enjoy
Some of the links on this article are affiliate links, which means that if you click on them and make a purchase, we receive a small referral fee. If you find the links useful and do make a purchase, thanks so much for your support!