(Last Updated On: June 1, 2019)
Hummus is a versatile dish that is easy to love. It makes a wonderful dip for toasted pita squares, tortilla chip or veggie sticks or can be used as a spread for toasted crostini or sandwiches. The basic recipe, featuring pureed garbanzo beans, or chickpeas, combined with the mild nutty flavor of toasted sesame seeds in the tahini paste, is perfect all by itself, almost.
Once becoming a fan of hummus, the temptation to experiment with flavors is unyielding. I've found tons of varieties on grocery store shelves including everything from garlic, roasted red pepper, cilantro and jalapeño or spinach and artichoke. The possibilities are endless.
Add to your recipe collection on Pinterest!
While traveling through Mexico we decided to try our hands at making a few hummus varieties, and the Hummus with Chiles in Adobo Sauce became a family favorite. Chiles in adobo sauce are a frequent ingredient used in Mexican cooking. They are sold in small cans and generally used sparingly as the flavor is spicy and intense.
The chiles are smoked jalapeños (chipotle peppers) that are dried and combined with other dried chiles, such as ancho or guajillo. The dried chilies are ground into a paste along with other fragrant ingredients such as cinnamon, clove, garlic, pepper and Mexican oregano.
The mixture is joined with vinegar and is used to flavor sauces (such as red enchilada sauce) or added to stews or liquids when making slow cooked meats. We use adobo in our Beef Barbacoa, Red Enchilada Sauce, and Chicken with Pineapple and Chipotle BBQ Sauce recipes. We love the sweet smoky flavor and spiciness. So we thought, why not try it in hummus. The results are delicious!
Spicy Hummus with Chipotles in Adobo Sauce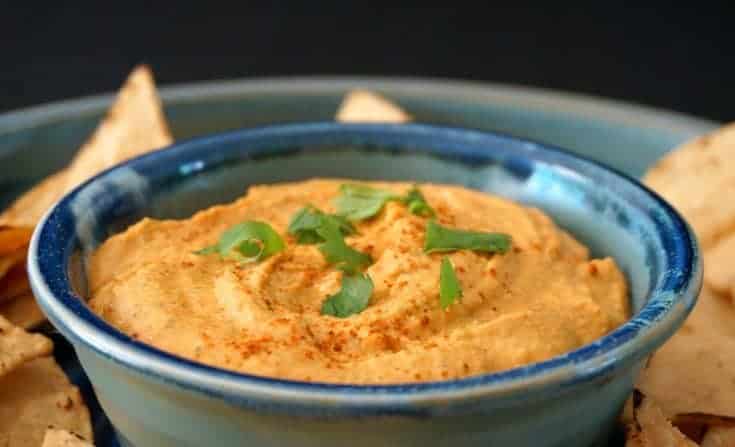 Spicy Hummus with Chipotles in Adobo Sauce Recipe. This version of hummus has a spicy, smoky flavor that could become your favorite vegan friendly appetizer!
Ingredients
14 Ounces Cooked Garbanzo Beans (Chickpeas)
1-2 Chiles in Adobo Sauce
1/4 Cup Water
3 Tablespoons Olive Oil
2 Tablespoons Tahini Paste
Juice 1/2 Lime
3 Tablepoons Chopped Cilantro
1/4 Teaspoon Garlic Powder
1/4 Teaspoon Salt
Instructions
Add 1 chile and 1/2 of the water to a blender or food processor
Add the remainder of the ingredients and blend until combined
Taste and adjust the flavor. Add another chile and additional salt if desired. For a smoother consistency, add additional water
Blend until smooth
For best results, store in a covered container in the refrigerator so that the flavors will combine (1 - 2 hours)
Here are a few additional dips and appetizer dishes you might enjoy!
Buffalo Blue Cheese Hummus Dip
Black Bean Dip with Cheese and Cilantro
Some of the links on this article are affiliate links, which means that if you click on them and make a purchase, we receive a small referral fee. If you find the links useful and do make a purchase, thanks so much for your support!