(Last Updated On: August 29, 2019)
Looking for an alternative to your standard chicken salad recipe? Or are you looking for something to do with all of that fragrant fresh mint growing in the garden.
This quick poached chicken salad recipe a great alternative. No mint? Try a few tablespoons of dried tarragon leaves, they also pair well with the slightly anise flavor of the fresh fennel bulb. If you haven't cooked with fennel, give it a try. It's a great source of vitamins and fiber and has a consistency similar to celery.
Poached Chicken Salad with Fennel and Mint
Poached Chicken Salad with Fennel and Mint
Ingredients
4 Servings
1 Pound Chicken Breast
Chicken Bouillon Cube
1/2 Cup Fennel Bulb - Diced
1 Small Onion - Finely Diced
1/4 Cup Fresh Mint - Finely Chopped
1/2 Cup Mayonnaise
Salt and Pepper to Taste
Instructions
Add the chicken breast into a pot of water, making sure it is covered by 2 inches of water. Add the bouillon cube and bring it to a boil, then reduce to a simmer.
Poach the chicken until it is cooked through and reaches 165 degrees F, approximately 8 - 12 minutes.
Remove the chicken and allow it to cool.
Combine all of the ingredients, adding additional mayonnaise if you want a wetter mix.
Serving suggestion: pile on a crusty bread roll with sliced tomato, Swiss cheese and arugula.
Visit our International Recipes section for recipes from our travels around the world.
Pin it for later: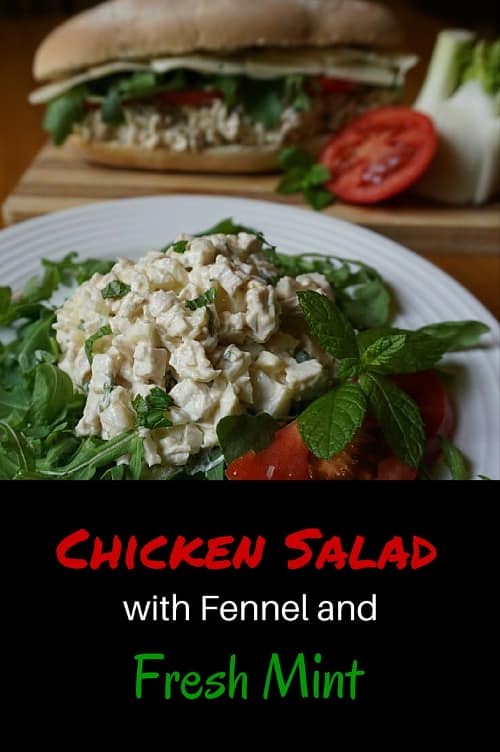 Some of the links on this article are affiliate links, which means that if you click on them and make a purchase, we receive a small referral fee. If you find the links useful and do make a purchase, thanks so much for your support!