(Last Updated On: June 15, 2019)
Peru is becoming known as a "foodie" destination. Part of the reason for this is the incredible diversity of available fresh ingredients, due to the large number of microclimates in the country.
Chefs in Peru are able to utilize the freshest seafood as well as exotic foods grown high in the Andes mountains or grown organically in the Amazon jungle. The possibilities are endless.
The food in Peru is a point of pride for the chefs in the region. We were lucky enough to sample (quite a bit) of the local delicacies during our recent visit and can attest to the quality of the ingredients, matched with creativity of the chefs that result in cuisine that is truly world class.
The dish that is the most famous, ceviche, is also one with a simple preparation and just a few choice ingredients. If you're not familiar with ceviche, it a raw preparation of seafood in which the fish is "cooked" in an acidic solution, usually fresh lime juice.
Chef Ebelin of Cuzco Dining shared the recipe with us and has happily agreed to pass along her secrets to making the perfect ceviche with our readers.
Here are some additional Peruvian Recipes that you might enjoy!
Peruvian Fish Ceviche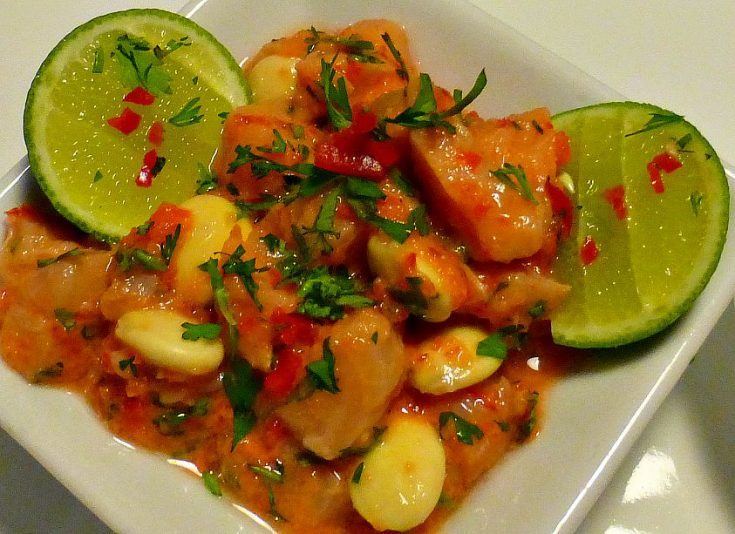 Authentic Peruvian Fish Ceviche
Ingredients
7 ounces of fish (sole, seabass, mahi mahi or any fresh white fish.
5 limes (preferably key limes)
1 Peruvian lime pepper, deseeded and deveined and cut into 4 quarters, two of them finely chopped (substitute jalapeño pepper or habanero pepper if you like more spice)
3 tablespoons of fish broth
1 teaspoon of fresh cilantro finely chopped
1/2 teaspoon of parsley finely chopped
2 tablespoon Rocoto (A spicy Peruvian Chili) Paste - recipe below
1 teaspoon condensed evaporated milk
salt and pepper to taste
Instructions
Take two lime pepper quarters and rub the bowl with them to perfume the bowl.
Cut the fish into small bite sized pieces and stir, allowing the fish to absorb the chili essence.
Quickly and gently squeeze the juice of two key limes onto the fish. It is important to only squeeze out the juice of the lime without squeezing and adding juice from the white part of the rind, which will add a bitter flavor.
Season lightly with salt and pepper.
Add the rocoto paste, baby cilantro, parsley and fish broth and mix gently, finally squeezing the rest of the lime and balancing the seasoning with broth, lime, salt and pepper.
Garnish your dish. Peruvian Ceviche most often comes with a boiled sweet potato on the side to balance the tartness of the lime, along with kernels of Choclo corn (which are oversized and more dense than corn found outside of South America and julienne slices of onion. You can also use fresh boiled or roasted corn kernels or slivers of red bell pepper.
Spicy Peruvian Rocoto Paste
Ingredients
1 clove garlic
1/2 stalk celery
1 teaspoon fresh ginger
1 tablespoon Peruvian Rocoto Chili Pepper (substitute banana pepper or other sweet and mildly spicy chili pepper if unable to find)
3 tablespoons fish broth
Instructions
Add all of the ingredients listed for the Rocoto Paste into a blender and process until smooth.
Place in a covered container in the refrigerator until ready to use.
Here are a few articles about travel in Peru and that may interest you:
Thank you to Chef Ebelin and Cuzco Dining who provided us with this wonderful recipe. To find out about taking your own Cooking and Pisco Tasting Class in Cuzco, follow this link to the Cuzco Dining Class.