(Last Updated On: June 14, 2019)
What makes the perfect mashed potatoes? They need to be full of flavor, creamy, and – one of my favorite things, able to be made ahead of time. That's mashed potato perfection!
The ingredient that helps give this recipe its versatility and texture is cream cheese. The potatoes will have a rich creamy texture without ending up tasting like cheese.
In this version I've added leeks, but you can experiment by adding roasted garlic, herbs, or topping your spuds with sour cream, shredded cheese, green onion and crumbled bacon. Or blend with chicken stock and a little cream and you have a wonderful potato soup. After making mashed potatoes this way I'm completely converted.
Perfect Mashed Potatoes with Leeks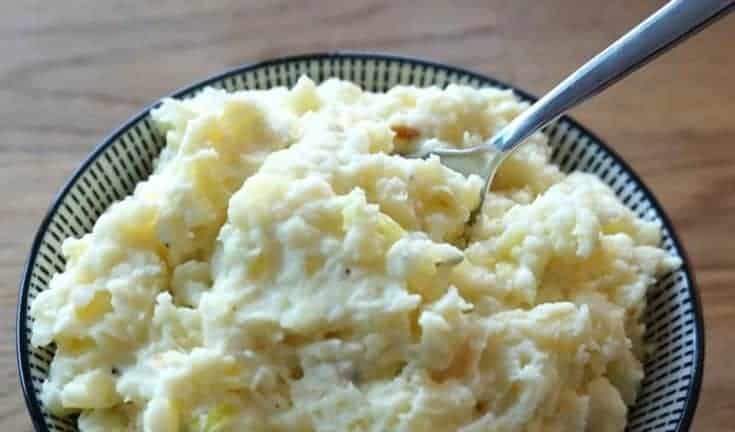 Perfect creamy mashed potatoes with leeks
Ingredients
5 pounds Russet Potatoes
1/2 cup Butter
1 package (8 Oz.) Cream Cheese, Softened
1/2 cup Sour Cream
1/2 cup diced leeks (use only the white part of the stalk, thoroughly washed)
1/2 cup Milk to be used in reserve
Salt and Pepper to taste
Instructions
Wash and peel the potatoes and cut into 1/2 inch cubes. Add the potatoes to a pot of salted water, making sure they are fully covered with about 2 inches of additional water over the top.
Bring the pot to a boil and then reduce the heat to a simmer. Continue to boil for about 20 minutes until the potatoes are fork tender.
Place the potatoes in a strainer and rinse. Allow them to dry thoroughly.
In the mean time add the leeks to a sauté pan with 2 tablespoons of the butter with a pinch of salt. Sauté over medium heat until the leeks begin to brown.
Place the potatoes in a bowl with the rest of the butter and begin to mash. Add in the cheese and sour cream in small amounts and continue to mash until they reach your desired consistency. If you want a creamier mash you can add a splash of milk at the end if they remain slightly dry. Add salt and pepper to taste.
Pin it for later:
Visit our International Recipes section for other recipes inspired by our travels around the world.
Some of the links on this article are affiliate links, which means that if you click on them and make a purchase, we receive a small referral fee. If you find the links useful and do make a purchase, thanks so much for your support!