(Last Updated On: June 15, 2019)
Hungarian Potato and Sausage Soup (or Paprikás krumpli) is a favorite peasant soup full of flavor and rich hearty ingredients that is a full meal in itself. Serve it with slices of crusty bread and enjoy the creamy texture, mingling with the spicy paprika and smoky favor of the sausage. It comes together very quickly and a perfect dish for any night of the week.
Here are some additional Eastern European recipes you might enjoy!
Hungarian Potato and Sausage Soup
Hungarian Potato and Sausage Soup
Ingredients
6 ounces smoked Hungarian sausage (or kielbasa or mild chorizo)
1 medium onion, roughly chopped
2 cloves of garlic, minced
2 carrots
4 potatoes (such as red-skinned or russet)
5 cups vegetable or chicken stock
3 bay leaves
4 tablespoons oil
2 tablespoons flour
2 teaspoons sweet Hungarian Paprika
1/8 teaspoon hot Hungarian Paprika (optional)
1/2 cup sour cream
salt and pepper to taste
Parsley, white vinegar, sour cream and hot sauce for garnishing
Instructions
Cut the sausage into slices on the bias. Add to a frying pan with the onion and garlic and enough oil to prevent them from sticking to the pan. Cook over medium heat until the sausage browns. Set aside
Peel the potato and carrot and cut into 1/2 inch pieces. Add them to a soup pot with the stock and bay leaves. Bring the pot to a boil.
Add the onions and sausage to the soup. After it returns to a boil reduce the pot to a simmer.
Add 4 tablespoons of olive oil and 2 tablespoons of flour to a pan and cook over medium heat for 1 - 2 minutes.
Once it is cool, combine with 1/2 cup of liquid from the soup and add the sour cream and paprika.
Return the mixture to the soup (slowly) and continue to cook until the vegetables are tender.
Top with parsley and serve with sour cream, white vinegar, and hot sauce, such as Erős Pista, which is a popular spicy sauce in Hungary made from hot paprika and salt) to adjust the flavor to your liking.
Pin or bookmark the recipe for later!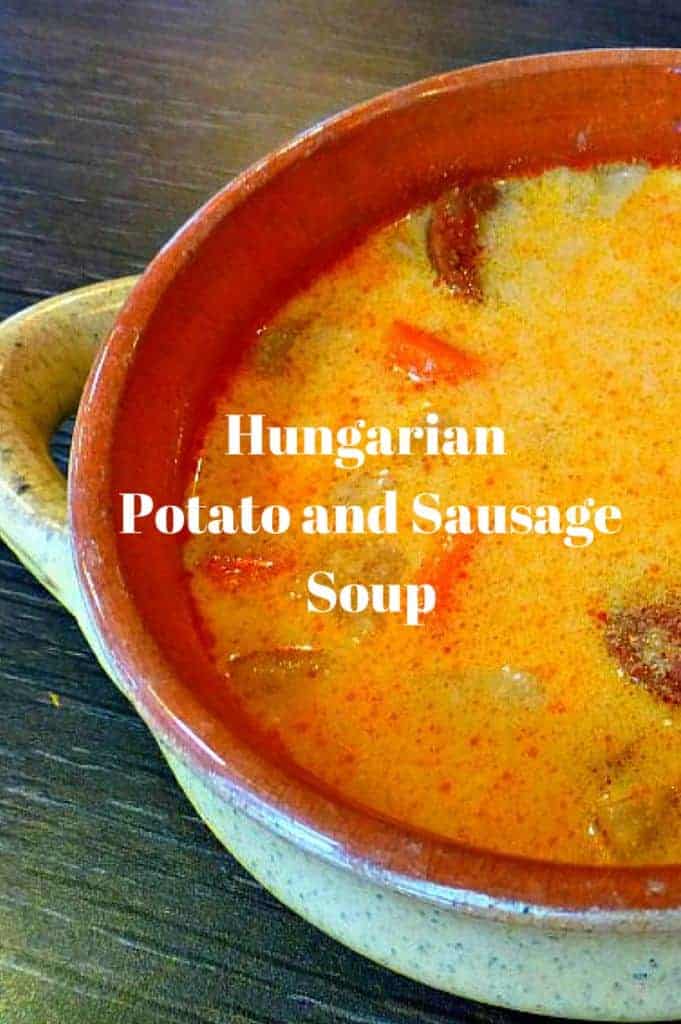 Here are some related articles about Travel in Hungary that may help inspire or plan a visit!