(Last Updated On: June 4, 2019)
One of my favorite things about eating at restaurants while traveling trough Mexico is being offered several types of salsas. After being seated a variety of salsas are often placed on the table, and they can widely depending on the region.
Each sauce has a different level of heat and complexity that can completely change the taste of what you enjoy it with. That is one of the very same reasons that I enjoy making Chicken Enchiladas with a Salsa Verde and a Red Enchilada Sauce together.
The tangy Salsa Verde adds a zesty fresh flavor with a hint of citrus. The Red Enchilada Sauce (which I make with chipotles in adobo sauce) has a slightly smoky flavor. I highly suggest making the homemade version of sauces, but if you don't have time, canned will do in a pinch.
Don't forget to bookmark of pin this post for later!
Using a precooked rotisserie chicken is a better way to save time, but if that isn't available simply poaching and shredding 2 chicken breasts will do the trick. Lastly, I skimped on the cheese slightly in this version in order to highlight the use of both sauces. In reality, I love my enchiladas smothered in cheese – so feel free to add more on top before baking.
Makes 10 Enchiladas
Red and Green Chicken Enchiladas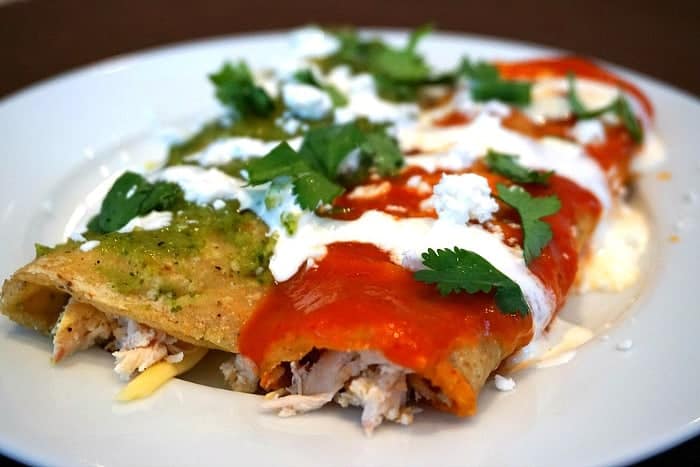 Ingredients
2 Cups Shredded Chicken
4 Tablespoons Vegetable Oil
1/2 Small Onion, Diced
1 Clove Garlic, Finely Diced
1/2 Cup Chicken Broth
1/2 Teaspoon Ground Cumin
1 - 2 Dashes Hot Sauce
8 oz Shredded Melty Cheese, such as provolone, jack or manchego
1/4 Cup Cojita or Feta
10 Corn Tortillas
Chopped Cilantro, Diced Green Onion, Sour Cream or Crema for Garnish
Instructions
Add onion to a saute pan coated with vegetable oil over medium heat. Saute for 3 minutes. Add the garlic and cumin and stir occasionally. When the onions are translucent add the chicken and stock and hot sauce to the pan. Bring the mixture to a boil and then reduce to a simmer. When the chicken absorbs most of the liquid set the pan aside.
Add the vegetable oil to a separate pan over medium heat. Working in small batches, heat the tortillas on both sides so that they are pliable but not brown. Allow them to cool and drain on paper towels.
Coat the bottom of a shallow baking dish (approximately 9 1/2 inches by 13 inches) with red sauce on one side and green on the other.
Add about 1/4 of the red sauce to a shallow bowl or plate. Dredge the tortilla on each side through the sauce. Then add chicken mixture along the center of the tortilla an to with cheese. Roll the tortilla and place in the dish. Repeat until there are 5 rolled tortillas in a row. Then follow the same steps with the verde (green) sauce.
Top each side with the remaining sauce and sprinkle with the remaining shredded cheese.
Bake in a 375 degree oven for approximately 12 - 15 minutes, until the cheese is melted.
Top with sprinkled feta or cojita cheese, sour cream (or crema) and cilantro or diced green onion.
Here are a few Mexican inspired recipes that you might enjoy!
Feel free to head over to our international recipes section to see our full collection of recipes inspired by our ongoing travels around the world.
Love Mexican Food? Considering a visit to Mexico? See these related articles that just might inspire you to get traveling!
Playa Del Carmen Side Trips – Yes You Should