(Last Updated On: October 8, 2020)
Chicken Rendang is a popular spicy curry dish that we discovered during a recent visit to Malaysia. The slow cooked chicken bathed in exotic spices, coconut milk and finished with a dark and nutty coconut paste proved out everything that we had heard about the incredible food of Malaysia. CNN actually put this dish on the top of its list of "50 of the World's Most Delicious Foods"
Don't forget to pin or bookmark this post for later!
Rendang (also often made with other cuts of meat, such as beef or lamb) is often made for special occasions because it does take some time to prepare, particularly if you make the toasted coconut paste yourself. Luckily there are some prepackaged products (Kersik) that are available to use in a pinch.
Interested in trying some other great Malaysian recipes? Check out some of our favorites:
Ingredients for 4 Servings
Yield: 4 Servings
Chicken Rendang - Malaysian Coconut Curry Chicken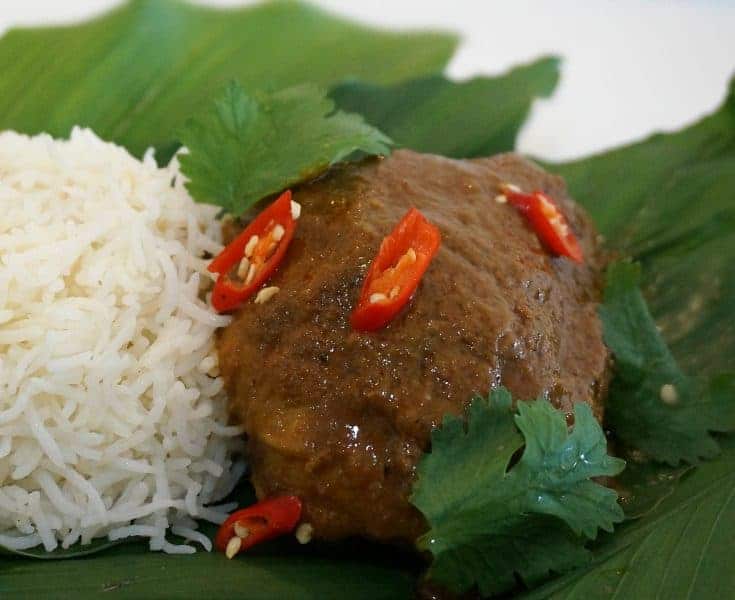 Chicken Rendang is a savory curry dish made with toasted coconut paste combined with coconut milk and fresh lemongrass and Kaffir lime leaves.
Ingredients
4 Portions of Chicken Leg and or Thigh, Skin on
4 Tablespoons Vegetable Oil
4 Kaffir Lime Leaves ( or 1 teaspoon lime zest)
2 Stalks of Lemongrass (remove woody outer portion and cut the stalk into 1 inch pieces
1/2 Inch Galangal (or Fresh Ginger)
1/2 Cup Tamarind Juice (or 2 Tablespoon Lemon Juice)
2 Cups Coconut Milk
4 Tablespoons Sugar
1/2 Cup Toasted Coconut Paste (Kerisik) -Recipe Below
8 Dried Chilies, soaked in warm water for 10 minutes
2 Fresh Long Red Chiles (or Serrano Chiles)
4 Cloves Garlic
1/2 Inch Ginger
8 Shallots
Instructions
Method
Add the chilies, garlic, ginger, and shallots to a food processor and blend until smooth.
Heat the oil in a heavy bottomed pan over medium heat. Add the chili paste and sauté for 5 minutes, until the paste becomes fragrant.
Place the chicken, lime leaves, galangal, lemongrass, tamarind juice, coconut milk, sugar and salt into a pot over medium heat. Continue to simmer for 45 to 60 minutes until the chicken is cooked through and the liquid has reduced and thickened.
In the mean time, prepare the coconut curry paste.
To make the Kerisik (toasted coconut paste) place 1 cup of shredded unsweetened coconut in a sauté pan or wok over medium heat. Continue to stir until the coconut reaches a rich dark brown color. Place the toasted coconut in a mortar and pestle and grind until it releases its oil and becomes a shiny paste. Or you can blend the coconut in a food processor. Note: To save time, kerisik, which is a staple in Malaysian Cuisine, is also available in Asian specialty stores.
Add the coconut paste to the chicken and allow to simmer for another 5 minutes. Serve over coconut rice and garnish with traditionally with a hard boiled egg and cucumber slices, or as pictured, with red chili peppers and cilantro.
A special thank you to The Tropic Spice Garden who provided us with the basis for this recipe. They also have cooking class where you can learn to make this and other wonderful Malaysian dishes.