(Last Updated On: November 8, 2020)
Chicken Caesar Salad is one of those staple recipes that I've found, in one form or another, on restaurant menus around the world. According to legend, the dressing was originally made by an Italian chef who had immigrated to the United States but was working in Mexico to avoid prohibition in the 1920's.
During a busy day at the restaurant was running low on ingredients. The quick thinking chef decided to put together a showy salad, himself, table-side to the delight of his guests. The classic creamy garlic-laden recipe was born. Anyone who figures out how to get more garlic in a recipe, no matter what the circumstances, is a hero in my book.
While traveling through Mexico we decided to give homage to the Caesar salad by adding in a few ingredients that are common to the area in which it was born. Our Mexican Spiced Chicken Caesar Dressing adds a hint of jalapeño pepper, a good dose of cilantro and another favorite Mexican ingredient, pepitas.
Pepitas are pumpkin (or squash) seeds which are often roasted, spiced and eaten as a snack, like peanuts. They add a subtle nutty flavor to the dressing along with a crunchy texture. If you can't find them, substituting roasted walnuts or pinenuts will also work.
The dressing recipe can easily be used as a bread spread or salad dressing, but is also fantastic in the preparation we suggest – Mexican Spiced Chicken Caesar Salad Crostini.
Chicken Salad Crostini with Garlic Parmesan Cilantro Dressing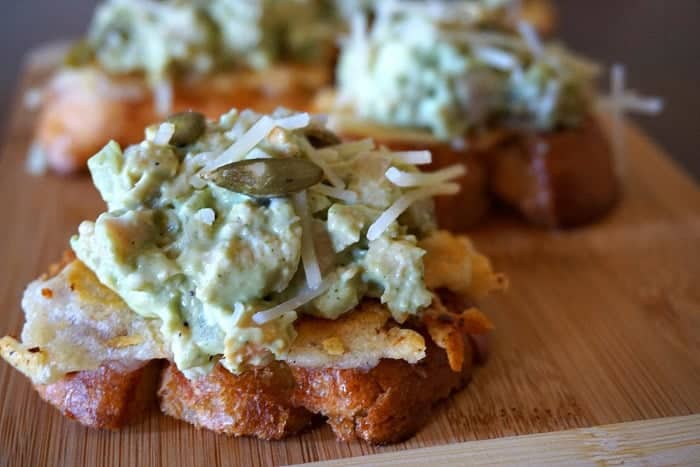 Chicken Caesar Salad Crostini with Pepitas and Cilantro - a perfect appetizer with the classic flavor of Caesar Dressing kicked up with Mexican Flavors!
Ingredients
For the Dressing
1 Cup Mayonnaise, such as Hellman's
1/4 Cup Grated Parmesan
3 Tablespoons Roasted Pepitas
1 Tablespoon Fresh Lime Juice
1/2 Bunch Cilantro, about 1/4 cup packed
1/3 Fresh Jalapeno
1 Clove Garlic
Dash Worcestershire Sauce
Salt and Pepper to Taste
For Chicken Salad
1 1/2 Cups Rotisserie Chicken - Finely Cubed
1/4 Small Sweet White Onion, finely Diced
3 Tablespoons Roasted Pepitas
2 Tablespoons Olive Oil
1 Crusty Baguette
Jalapeño Slices and Shredded Parmesan Cheese, as a garnish
Instructions
For the Dressing:
Add all of the ingredient to a blender or food processor and blend until smooth.
Place in a covered bowl and the refrigerator. The dressing can be made a day in advance.
For the Crostini:
Place the chicken cubes in a medium sized bowl. Roughly chop the pepitas and add them to the bowl with the diced onion. Add 5 tablespoons of the dressing and mix until the chicken is coated. If the mixture is still dry, add additional dressing.
Cut the baguette into rounds. Coat both sides with olive oil and place on a cookie sheet. Bake in the middle oven rack until the bread is lightly brown.
Top the rounds with the chicken salad and garnish with jalapeño slices and Parmesan Cheese.
Here are some related recipes you might enjoy:
Curried Shrimp and Cauliflower Salad
Poached Chicken Salad with Fennel and Mint
Stuffed Deviled Eggs with Bacon
Pin it for later!