(Last Updated On: June 7, 2019)
Supa Topcheta, or Bulgarian Meatball Soup, is a favorite traditional dish and comfort food at its best. The hearty soup is filled with vegetables and meatballs made with a combination of pork and beef. Then it's thickened with egg yolks and Greek yogurt spiked with fresh lemon juice.
The resulting soup is creamy without being overly heavy. Serve with extra yogurt and lemon on the side, and of course with a loaf of crusty bread.
Pin or bookmark the recipe for later!
Bulgarian Meatball Soup - Supa Topcheta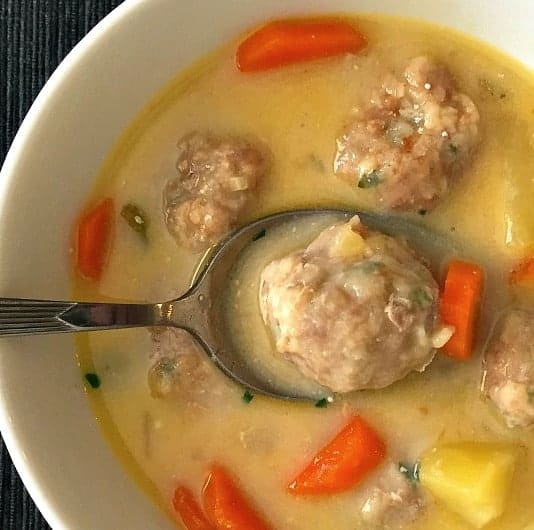 Supa Topcheta - A Bulgarian meatball soup with potatoes and vegetables in a beef broth thickened with creamy Greek yogurt.
Ingredients
1/2 lb Ground Beef
1/2 lb Ground Pork
1 Egg
1 Teaspoon Sweet Paprika
4 Cloves Garlic, minced
1 Large Onion, diced
4 Tablespoons All Purpose Flour
4 Tablespoons Olive Oil
2 Stalks Celery, diced
2 Carrots; diced
2 Medium Potatoe, peeled and cut into 1 inch cubes
2 Beef Bouillon Cubes
8 Cups Water
3/4 Cup Greek Yogurt
2 Egg Yolks
Juice 1/2 Lemon
4 Tablespoons Minced Fresh Parsley
Salt and Pepper to Taste
Instructions
Mince 1/2 of the garlic, 1/4 of the onion and 1/2 of the parsley.
Add them into a bowl and combine with the ground pork and beef, sweet paprika and the whole egg.
Add the flour to a plate. Form the meat mixture into small bite-sized balls. Dredge each one through the flour so that they are completely coated
Add the meatballs in small batches to a frying pan over medium heat.
Brown them one each side but do not cook all the way through. Set aside
Add 2 tablespoons of olive oil to a stock pot. Add the onion and saute for 5 minutes.
Add the garlic, carrots and celery and continue cooking for 5 minutes.
Add the water and bouillon cubes and bring the pot to a boil. Reduce to a simmer and cook for 15 minutes.
Add the meatballs and potatoes and raise the temperature back up to a light boil. Continue to cook for about 15 minutes, until the potatoes are cooked through.
Take the soup off the heat and allow to cool for 15 minutes.
Combine the yogurt, lemon juice and egg yolks in a small bowl.
Remove about 1/2 cup of the soup broth and slowly add to the yogurt mixture. Then combine with another cup of the broth.
Add the yogurt mixture to the soup in a slow stream while stirring the soup. This will allow the yogurt to be combined with the hot soup without breaking.
Garnish with parsley and serve with crusty bread.
Additional soup recipes you might enjoy!
Visit our food finds/recipes section to explore our full collection of recipes inspired from our ongoing travels around the world!
Some of the links on this article are affiliate links, which means that if you click on them and make a purchase, we receive a small referral fee. If you find the links useful and do make a purchase, thanks so much for your support!