(Last Updated On: June 14, 2019)
I'll admit that growing up I wasn't a big fan of brussel sprouts. I have since changed my mind completely – or maybe its another example of the adage – everything is better with bacon.
My previous introductions to brussel sprouts had been after they were thoroughly boiled to the point of mush. They bear no resemblance to this version.
Meet the new sprout, roasted until they become caramelized and then paired with pancetta bacon and a vinaigrette with red wine vinegar and briny Dijon mustard. I could sit down and tuck into a dish of these spouts and polish them off all by myself.
Brussel Sprouts with Pancetta and Red Wine Vinaigrette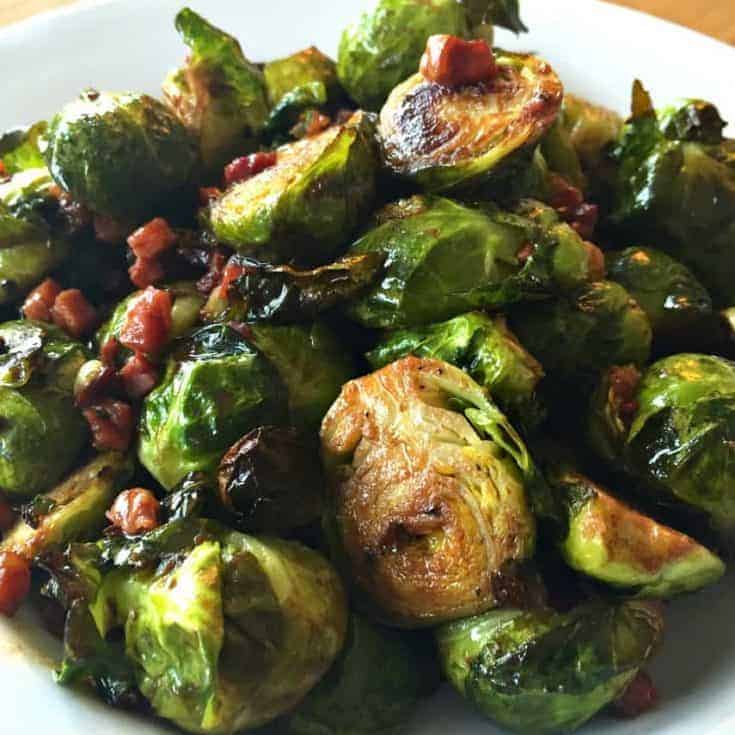 Roasted Brussel Sprouts and Crispy Pancetta Bacon finished with a Red Wine and Dijon Mustard Vinaigrette
Ingredients
2 lbs Brussel Sprouts, stem removed, washed and cut in half
1/2 cup diced Pancetta bacon
4 tablespoons Olive Oil
2 tablespoons Red Wine Vinegar
2 teaspoons Dijon or Grain Mustard
Salt and Pepper to taste
Instructions
Preheat oven to 400 degrees.
Combine the sprouts and pancetta with 1 tablespoon of olive oil and sprinkle with salt. Place the mixture on a baking sheet and spread evenly. Roast until the spouts begin to brown - about 20 minutes. Note: If you like your bacon extra crispy, brown them slightly first and use the drippings in your vinaigrette sauce.
In the mean time whisk together the vinegar, mustard and remaining olive oil. Drizzle over the spouts and serve immediately.
See additional recipes inspired from our travels around the world in our International Recipes section.
Pin it for later:
Some of the links on this article are affiliate links, which means that if you click on them and make a purchase, we receive a small referral fee. If you find the links useful and do make a purchase, thanks so much for your support!